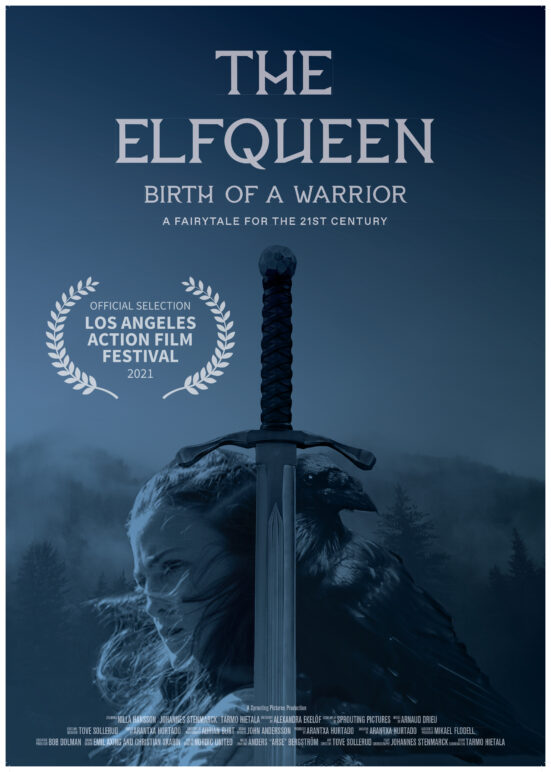 Screenplay: Sprouting Pictures

Nilla Hansson

Johannes Stenmarck

Tarmo Sakari Hietala
Producers: Arantxa Hurtado/Adrian Burt
Associate producers: Mikael Flodell, Jose Luis Hurtado, Pilar Angé, Meike Angé, Gale Castro, Cathrine Terreros, Lovisa Lundgren
Executive producer: Bob Dolman
Director: Arantxa Hurtado
Director of Photography: Adrian Burt
Stunt Coordinator: Tarmo Sakari Hietala
Editors: Arantxa Hurtado/Adrian Burt
Sound mix & Sound design: Hampus Kung
Foley artist: Hampus Kung
Original score: Arnaud Drieu
Costume designer: Tove Sollerud
Camera operators: Adrian Burt, Love Oijens
Camera Assistants: Andreas Petrander, Filip Önell
Gaffer: Anders Dahl
Best boys: John Andersson, Tobias Nirs
On set sound recordists: Emil Axing, Christian Skaring
Weapons coordinator: Anders Jacobsson
"Birth of a Warrior is the story of Ragnhild, a rebellious young woman who, in a time of tyranny and against all odds, achieves her dreams of becoming a warrior.
In this 8 min film, Ragnhild and her father, General Alvar, have been out training and sword-fighting all night. She is extremely dextrous with the blade and in her mind she has proven to him time and again that she is as good a fighter as any of his soldiers. 

But to her anger and frustration, he doesn't think that she has what it takes to be part of his army. On their way back through the woods they are met by Max, a mischievous thief. In a moment of danger and with Alvar's life at stake, Ragnhild will rise to the occasion and prove her worth. 
Birth of a warrior is an action / fantasy film for the 21st century, inspired by 80s and 90s fantasy and adventure films. Actively moving away from green screens and wires, all three actors perform their own stunts proving great skills in both fields.
The main character, Ragnhild, comes across as stubborn and at times annoying. However it is an expression of my own experience as a female filmmaker, knowing that I had the skills but had to fight against an establishment of male filmmakers to prove it.  Birth of a warrior marks a milestone in my career as a director. "
Arantxa Hurtado